As in the rest of the world, demand for alternative energy sources has been growing in Ukraine. Technological progress has substantially reduced the costs of both solar and wind generation. The construction of solar energy stations, wind energy stations and biogas facilities has begun to pay off within just a few years, thanks to the high "green" tariff that was established in law. The result has been a substantial inflow of investment in the industry.
But right now, the benefits of Ukraine's green tariff are mainly going to oligarchs and Big Business. Of course, the owners of private homes are also installing solar panels, the their share of the green energy sector remains microscopic. Meanwhile, big capital is going great guns. In February, Rinat Akhmetov's energy giant, DTEK, launched the largest solar power station in Europe, the Nikopol SES, which has a power capacity of 246 MW – enough power to provide electricity to a city of 100,000.
But things could shift considerably on this market in the future. Ordinary Ukrainians have the opportunity to squeeze the major players and participate more broadly in developing alternative energy. All they have to do is look to what's going on elsewhere in Europe: home-owners are setting up electrical co-ops and generating green electricity on an industrial scale that is equivalent to a large corporation.
This instrument is in its nascent stage in Ukraine right now, but it's clear already what enormous potential it represents. The cooperative movement, which is growing not only in alternative energy but also in other areas, could change Ukrainian society and its economic situation by teaching people to cooperate and to become full-fledged participants in the economic process of their country. To have an idea how far Ukraine has fallen behind other developed countries, a few numbers offer a sobering image: Germany claims more than 1,000 various energy cooperatives that supply an entire range of resources and service both to their members and to third parties. Ukraine, by contrast, is only in the process of setting up the first such cooperative.
RELATED ARTICLE: Persuasive economy vs uncertain policy
Energy co-ops have become the key instrument that has made it possible to combine the financial resources of thousands of German citizens to put up power stations that produce energy from renewable sources. According to the Agora think-tank, 47% of installed SES capacities in Germany belonged to ordinary Germans and cooperatives in 2012. Moreover, not just private individuals may be members of energy co-ops in Germany: enterprises and businesses are also allowed. For instance, farmers and agricultural companies sometimes join forces to set up joint biogas power stations. In addition to these energy co-ops, there are also community co-ops that involve private citizens, community enterprises and the energy cooperatives established by local citizens.
For Ukraine, these are inconceivable numbers, but practice has shown that they could become real if ordinary Ukrainians understand the benefits that become available by joining forces in a cooperative. Germany's example proves that this process can have an explosive impact. The country saw explosive growth in the number of cooperatives after 2008: where numbers went from 66 to 136 between 2001 and 2008, over 2008–2015 they skyrocketed from 136 to 1,000. Germans began to join co-ops on a mass scale in order to put their money into promising technologies and use the capital to build power stations. Today, German energy co-ops have involved hundreds of thousands of individuals. One typical example is Friedrich-Wilhelm Raiffeisen Energie in Bavaria, founded in 2008. It began by constructing and bringing on line a 270 MW solar power station. Today, it generates around 270,000 kWh of electricity a year.
The first Ukrainian energy cooperative, called Sonyachne Mistoor Sunny City, is supposed to launch shortly in Slavutych, the same town that emerged in 1986 after the Chornobyl accident, to which the workforce at the AES was relocated. This city is very well suited to a project based on its features. First of all, the local population is predominantly power engineers and technically savvy specialists who understand the value and importance of planning. Secondly, Slavutych buildings are largely soviet-style, with flat roofs, which makes them very suitable for solar panels. Soon all these roofs will begin to generate electricity.
According to Greencubator founder and one of the originators of the idea of an energy cooperative in Slavutych, Andriy Zinchenko, he was inspired to set up Sonyachne Misto by what he had seen in Germany and the US. In smaller cities and towns in those countries, it's quite normal to participate in such an association while the cooperatives themselves have long been strong market players. For instance, rural American energy co-ops generate nearly 5% of all the power produced in the US. What's more they provide jobs for around 72,000 Americans.
"The solar energy station is ideal for setting up such an energy cooperative," explains Zinchenko, "because its very nature makes it possible to easily distribute the current among the participants. We plan for the price of a share, the smallest contribution a person must make to become a member of the cooperative, to be around US $500. Of course, anyone can buy more shares and contribute more money. The profitability of the enterprise will depend on a lot of factors, but on average, we've calculated, every participant in the co-op will get an annual profit of around 20%, which means their investment will pay off within five years."
The concept behind the project is for residents of Slavutych to have first dibs on shares in the energy co-op. Only after that will shares be open to buyer from other areas. This practice is also common in western countries, where local residents have the advantage in buying shares when the local cooperative is being set up. So far 30 individuals have already indicated interest in joining the cooperative although shares have not yet been put up for sale.
In general, setting up such energy co-ops has so many positive benefits that it's a wonder that this movement hasn't become a mass-scale phenomenon in Ukraine. In addition to developing alternative, green energy, cooperatives will make it possible to engage tens and even hundreds of thousands of ordinary citizens in business activity, bring their incomes and savings out of the shadows, and make this capital work to expand the economy and not rot under mattresses. After the recent banking crisis, trust in Ukraine's banks was considerably undermined and today Ukrainians are extremely reluctant to put their money into deposits, seeing it as safer to keep it at home in dollars or euros. Buying a share in an energy co-op could be a great alternative to keeping money in a bank. Given that that numerous banks went bust in Ukraine but not a single solar power station has, the reliability of this investment seems unquestionable.
RELATED ARTICLE: The year of grants
The main thing, however, is that setting up and expanding energy co-ops represents a real and not just nominal reduction of the power of the oligarchy in Ukraine. With the help of this instrument, ordinary Ukrainians will be able to squeeze oligarchs out of this particular market and gain some of their profits for themselves. The opportunities are endless, as energy co-ops in the West are not only engaged in power generation, but also in delivering electricity to consumers. For this purpose, they often build their own parallel distribution grids, which all belong to major corporations in Ukraine. This offers another market on which associations of individuals can squeeze out the bigger players.
In short, an instrument that can give individuals the opportunity to join efforts and make money is already here. According to Zinchenko, even if it needs some tweaking, Ukraine's legislation does allow individuals to set up energy cooperatives. Why don't Ukrainians take advantage of this situation? Obviously most people simply aren't even aware of it and have no real idea what kinds of advantages this model offers. Yet in this industry, as in any other innovative sphere, it's high time to get going. The first positive result should give energy co-ops a real boost and help Ukraine wake up to this dormant potential.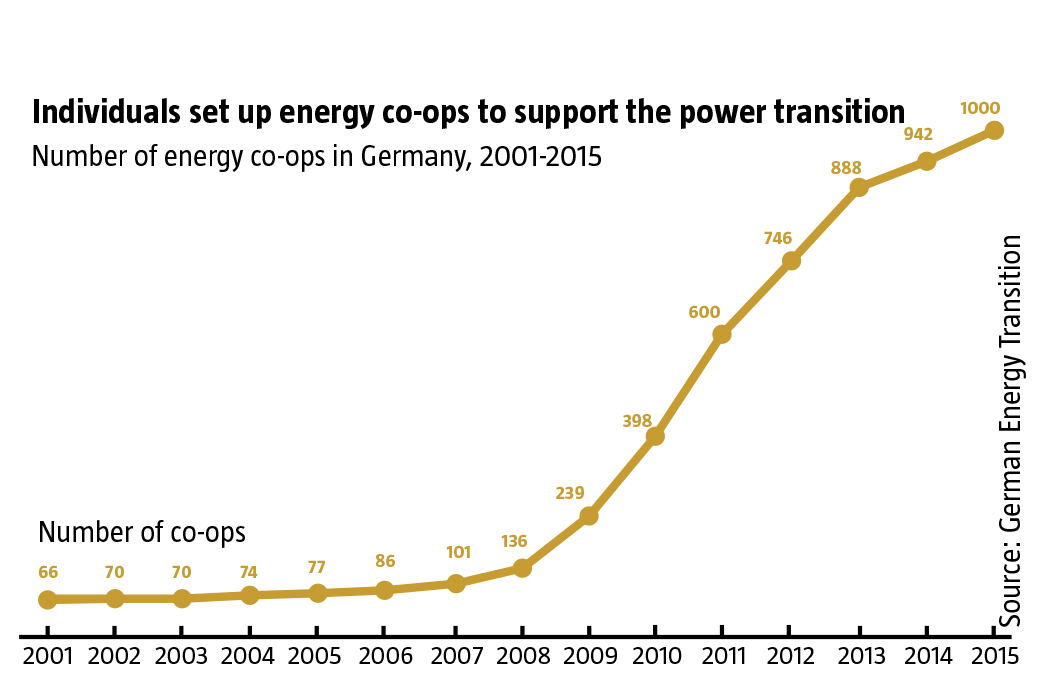 Translated by Lidia Wolanskyj
Follow us at @OfficeWeek on Twitter and The Ukrainian Week on Facebook